GlobeNewswire
ChargePoint (CHPT) Plummets after Revenue Shortfall, CEO and CFO Sacked- Hagen Berman
HAGENS BERMAN, NATIONAL TRIAL ATTORNEYS, Encourages CHPT Investors Who Suffered Substantial Losses to Contact Firm's Attorneys, Firm Investigating Possible Securities Law Violations
News provided by
Hagens Berman Sobol Shapiro LLP
Nov 20, 2023, 12:00 PM ET
SAN FRANCISCO, Nov. 20, 2023 (GLOBE NEWSWIRE) -- Hagens Berman urges ChargePoint Holdings, Inc. (NYSE: CHPT) investors who suffered substantial losses to submit your losses now. The firm also encourages persons with knowledge who may be able to assist in the investigation to contact the firm's attorneys.

Visit: www.hbsslaw.com/investor-fraud/CHPT
Contact An Attorney Now: CHPT@hbsslaw.com
                                                844-916-0895
ChargePoint Holdings, Inc. (NYSE: CHPT) Investigation:
The investigation focuses on circumstances surrounding its recently announced disastrous financial results and executive departures.
More specifically, on Nov. 16, 2023, ChargePoint announced preliminary Q3 2024 financial results with revenues expected to miss analysts' consensus expectations by about 30% and representing a year-over-year decline. In addition, the company said it would take a second consecutive impairment charge – this one in the amount of $42 million that, in turn, would result in as much as negative 23% GAAP gross margin.
ChargePoint also announced the abrupt departures of its CEO (Pasquale Romano) and, at the request of its board, its CFO (Rex S. Jackson).
This news resulted in a wave of analyst downgrades and drove the price of ChargePoint shares plummeting over 35% lower during intraday trading on Nov. 17, 2023.
"We're focused on investors' losses and are investigating whether ChargePoint may have misrepresented the relative strength of its business and operations, including inventory management and competitive threats," said Reed Kathrein, the Hagens Berman partner leading the investigation.
If you invested in ChargePoint and have substantial losses, or have knowledge that may assist the firm's investigation, submit your losses now »
If you'd like more information and answers to frequently asked questions about the ChargePoint investigation, read more »
Whistleblowers: Persons with non-public information regarding ChargePoint should consider their options to help in the investigation or take advantage of the SEC Whistleblower program. Under the new program, whistleblowers who provide original information may receive rewards totaling up to 30 percent of any successful recovery made by the SEC. For more information, call Reed Kathrein at 844-916-0895 or email CHPT@hbsslaw.com.
About Hagens Berman
Hagens Berman is a global plaintiffs' rights complex litigation law firm focusing on corporate accountability through class-action law. The firm is home to a robust securities litigation practice and represents investors as well as whistleblowers, workers, consumers and others in cases achieving real results for those harmed by corporate negligence and fraud. More about the firm and its successes can be found at hbsslaw.com. Follow the firm for updates and news at @ClassActionLaw. 
Attorney advertising.
Past results do not guarantee future outcomes.
Services may be performed by attorneys in any of our offices. 
Contact:
Reed Kathrein, 844-916-0895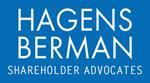 NOTE: This content is not written by or endorsed by "WJZY", its advertisers, or Nexstar Media Inc.
For inquiries or corrections to Press Releases, please reach out to GlobeNewswire.